Digital Services and Mold Making
Udell Dental Laboratory uses advanced digital technology to produce great fitting restorations. We can receive digital impressions in STL format from any intra-oral scanner. Files can be sent through CEREC Connect, or directly to the lab via secure email.
We use computer aided design (CAD) to create crowns, bridges and cast partial frameworks, and output to milling equipment or 3D printers. We provide high-quality milled crowns, bridges, veneers or copings in zirconia or lithium disilicate. Partial denture frames are computer designed and 3D printed to be cast in CoCr alloy or processed in Valplast. Additionally, we manufacture milled partials in other specialized materials. We are also your source for titanium or zirconia custom milled bars and implant abutments.
The efficiency, quality and improved communications made possible with digital dentistry has revolutionized the dental industry. It gives patients and dentists a more comfortable, less invasive way to get the data necessary for crowns, reduces time lost for pick-ups, eliminates chemical-based processes and expedites delivery of restorations. The improved esthetics and fit results in fewer remakes and reduced seating time.
New! Digital Impressions
Impressionless restorations
Models from your digital impressions
Now, an option for dentists who do not wish to mill in their office but want to offer patients digital impressions.
The CEREC® Acquisition Center (AC) is available as a stand-alone digital impression device that is used with CEREC-Connect to transmit your impression to our laboratory. And soon, Udell Dental Laboratory will have the ability to fabricate models from your digital impressions.
Click here: To read about "impression-less" models
Dentists without the CEREC Milling Unit:
Use CEREC Connect Software and the AC, to send digital impressions to our laboratory. Have your fixed restorations made with a variety of materials.
Dentists with the CEREC Milling unit:
Use the AC to send digital impressions to our laboratory and take advantage of a wider range of material and treatment options than available with the CEREC.
The CEREC Bluecam
Digital dental impressions - as easy as taking a photo!
High level of digital precision and efficiency
Extraordinarily fast - acquires half and full-arch impressions
Significantly expands range of clinical indications
CEREC® Connect
We are capable of providing precise impression-less and model-less restorations
Dentists who currently have a CEREC acquisition unit, a high-speed internet connection, and are registered with CEREC Connect can send files to our laboratory and have completed crowns returned, ready to seat.
Getting Started Basics: Register with the CEREC Connect website (www.cerec-connect.com), choose Udell as your preferred laboratory from the list of providers (we automatically receive an email telling us you chose Udell), Patterson Technology Center (800-475-5036) will contact you within 3 days to complete account set-up.
Working with Udell: Take a digital impression with your CEREC unit in the Master Mode, fill out digital Rx form, submit the case to Udell using either of these methods:
If you have high-speed internet connection and anti-virus software on your unit, you can send the scan directly to Udell. You will receive an emailed confirmation from Udell when we receive your file.
You can also copy the file to a flash drive and email us the file from your office computer that has a high-speed internet connection.
If we receive the scan by 10:00 a.m., your digital impression will be viewed by a Udell technician and put into production that day.
For more information on how Udell can help your practice get started with CEREC Connect, contact Udell Dental Laboratory today, 952-926-9266 or toll free, 800-248-9943.
Other intra-oral scanning systems:
In addition to CEREC (Sirona) Connect, we can accept files from any open digital imression system. Impressions can also be sent directly by email to cad@udelldental.com.
When we receive your digital impression, our technicians will design the restoration on the virtual model. Then the restoration is milled and finished in your choice of materials.
Materials we mill:
IPS e.max CAD lithium disilicate
BruxZir zirconia
Katana STML zirconia
ZirLux 16+ zirconia
Sirona InLab®
The Sirona inLab system produces strong and beautiful restorations, covering a wide range of indications from inlays, onlays and crowns, to multiple-unit bridge frameworks. The unit is capable of dry or wet milling of a broad range of materials.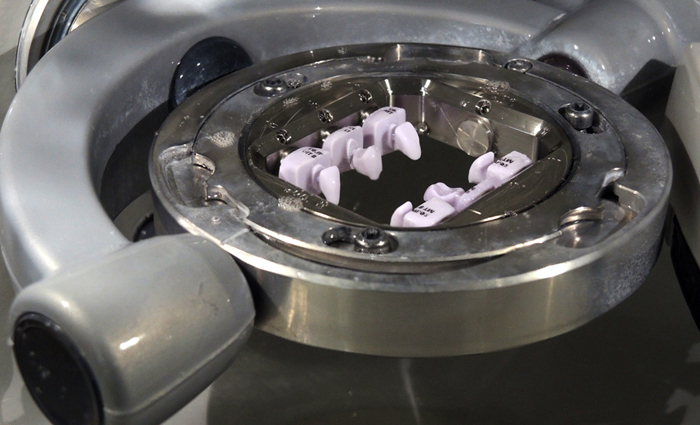 Roland DGShape®
The Roland DGShape system provides high precision crowns and bridges, dedicated to dry-milling zirconia, including BruxZir, Katana, and Zirlux 16+ in all shades and translucencies.
Atlantis™ Components for Implants
A virtual image is generated with 3D scanning of the upper and lower models. The scanned image allows each AtlantisT abutment to be individually designed and produced for the specific space it will fit, and also in relation to the surrounding teeth. By using the Atlantis VAD™ (Virtual Abutment Design) software, Astra Tech designs the abutments from the final tooth shape, which achieves a more natural, esthetic result.
"We deliver dental products and services that allow you to confidently guarantee the satisfaction of your patient."
UDELL'S QUALITY GUARANTEE
We guarantee all new crown & bridge work, dentures, partials and orthodontic appliances, with a no breakage and no-charge remake policy when appropriate.
Click here to view our full Terms and Conditions and Limited Warranty.