Partial Dentures
Valplast™ Flexible Partials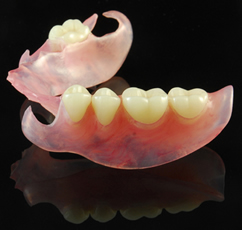 Patients don't want metal clasps showing when they smile. Prescribe an esthetic Valplast flexible partial; they are metal-free, lightweight and comfortable. Your patients will love them, and you will feel good about placing a partial a patient wants to wear.
Valplast is ideal for most cases; a removable partial, a unilateral partial or in combination with a cast framework. The biocompatible material is translucent and available in 3 shades to best match your patient's tissue, for free shade tabs or to see (and feel) a sample case, contact Udell Dental Lab at 800-248-9943.
You can add teeth, reline, or repair Valplast!
The partial is tissue supported and kind to tissue
Lifetime warranty on Valplast material
Insurance codes:

Maxillary flexible partial denture D5225
Mandibular flexible partial denture D5226
Valplast FAQ includes chair side instructions and patient care recommendations.
Valplast™ Process on a Vitallium 2000™ Cast Framework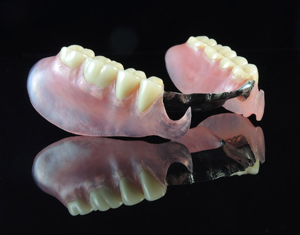 The perfect combination when you need the stability of a cast framework, but your patient wants an esthetic partial.
Flexible Nylon Clasps
VisiClear™ is clear nylon and DurAcetal® is a VITA-tooth colored nylon. These flexible clasps can be added to a new or existing cast partial or in place of wrought-wire, they fit into an undercut giving better retention and a snap fit. The material is non-porous, biocompatible and adjustable.
CuSil Partials
Cusil is a comfortable alternative to clasps for acrylic partials. CuSil is bonded to the acrylic partial, forming "gaskets" around the patient's natural teeth. This helps to prevent food from going under the partial, and provides secure retention with a softer feel.
Precision frameworks created with 3Shape and Stratasys CAD/CAM
We use 3D CAD programs to design partial frameworks that provide optimal retention and are light in weight. Beginning with a digital scan of the physical model, we survey and block out the digital model and design the case. This data is sent to our Stratasys 3D printer to create a resin pattern which is then invested and cast using Vitallium 2000 Alloy. This process eliminates errors that could be caused by the duplication and refractory process, for a precise fit and consistent quality.
Vitallium® 2000 Cast Frameworks
Our skilled technicians create strong, fracture-resistant partials. This CoCr alloy is nickel & beryllium free and the highly polished surface resists plaque.
Send us your study models for free case design, survey and preparation guidelines. For a free clasp adjuster contact Scott Udell.
"We deliver dental products and services that allow you to confidently guarantee the satisfaction of your patient."
UDELL'S QUALITY GUARANTEE
We guarantee all new crown & bridge work, dentures, partials and orthodontic appliances, with a no breakage and no-charge remake policy when appropriate.
Click here to view our full Terms and Conditions and Limited Warranty.